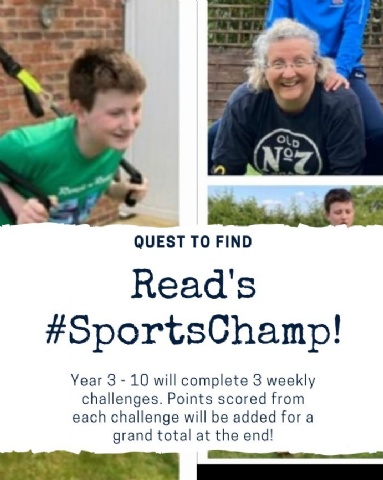 Read School are on the Quest to find Our Sporting Champion!
During lockdown, the effort, ingenuity and committment from throughout the Read School community has been absolutely astounding. We've had so many posts, emails and images come flying in with everyone's various sporting activities. On top of this, we've been setting a 'Weekly Sporting Challenge' and many of you have stepped up tot he mark remarkably.
Just a few of the Challenges over lock down have included; travelling the length of the UK by walking, running, cycling, skating, frog hopping and the rest, 'keepy uppies', the rugby ball wheely bin challenge (!) amongst many others. Head over to our social media pages to see some of the videos and pictures.
Now, onto the Quest. The pupils in Year 3 - 10 will complete 3 challenges each week, over the next three weeks. The points scored in each week's challenges will be added together to work out the sports champion for the summer term for each year group.
We will look forward to receiving your entries by picture, video or pigeon!
Good Luck