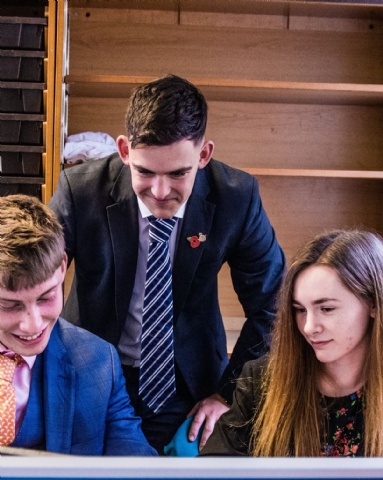 A Level Results Press Release
Read School Pupils Celebrate 100% A Level Pass Rate
Despite the increased academic rigour of the new A Level specifications, Read School sixth form pupils achieved an impressive pass rate of 100% for all A2 and BTEC entries with nearly 60% of passes (A2 & BTEC) at A* - B (or equivalent) grades. Miss Corrinne Cross, Head of Sixth Form commented 'we are delighted with the performance of our Year 13 pupils: we have a very diverse cohort in the Upper Sixth this year and our pupils speak over five different languages between them. If an international pupil is sitting an examination with English as an additional language, this clearly represents a further challenge to examination success, making high grades all the more impressive. The school has performed very well in core traditional subjects such as Maths and Further Maths which gives the opportunity for talented mathematicians to study at an exceptional level. Strong performances were also seen in Design Technology, Business Studies, Fine Art, German and the new Extended Project Qualification, illustrating the breadth of A Level choices available to Read School Sixth Formers'.
Headteacher, Mrs Ruth Ainley commented that, "A Level examinations are stressful for all pupils and we are very proud of our Sixth Form and the resilience they demonstrated throughout. Read School is not academically selective and we aim for each pupil to achieve their full potential while building other skills that are needed in the workplace such as communication, team building, leadership and endurance. It is gratifying to see the vast majority of our pupils achieve their university places after so many months of hard work and I am very proud of them all and of our staff whose advice and guidance helped them get there'.
Pupils from Read School will be taking up places in a number of different universities from all over the country with one pupil leaving Drax to pursue an international business degree in Vancouver, Canada. Celia Wu who achieved A*, A, B in Maths, Further Maths and Chemistry will take a gap year prior to taking up her place at University of Durham to read Natural Science while Head Girl, Catherine Whitworth will study Architecture at the University of Reading.
"We wish our Sixth Formers well as they embark on the next exciting chapter of their life"

Mrs Ainley.